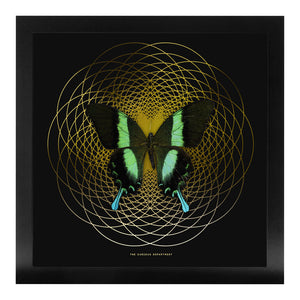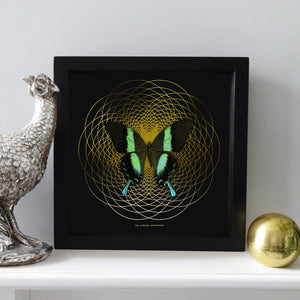 About: The Spiro collection pairs the natural and symmetrical beauty of the butterfly with a hypnotic and mathematically complex spiral designs, a homage to the movement first popularised in the 1960s. Adding a small dose of opulence with the gold foil finish, this collection honours the butterfly, and ensures it continues to share its beauty in the life eternal.
Detail: Hand mounted real Green Swallowtail butterfly on 250gsm Satin Colotech high quality paper with gold foil printed design. Housed in a black natural wood frame, stamped and hand numbered from a limited edition of 100.  Frame: 25cm x 25cm.
Also: Each and every butterfly is unique and ethically sourced, so they have lived full adult lives and may have some imperfections. 
Please note: We make each butterfly to order, which can take between 3-7 working days. Please let us know if your order is urgent by emailing wtf@thecuriousdepartment.com and we can advise.