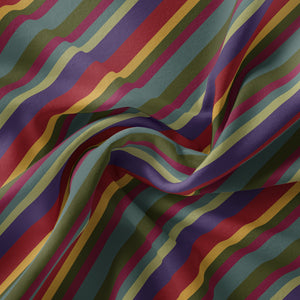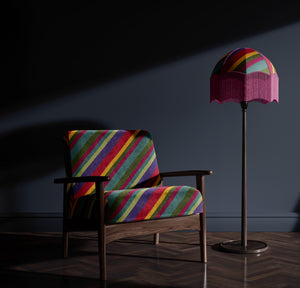 About: Liberatzión is inspired by fashion and culture of the 70's. The 1970's were very much a continuation of the 60's, a politically tumultuous for marginalised people. Women, African Americans, Native Americans, and the LGBTQ+ community along with other marginalised communities continued their fight for equality. Many people from those community were joined by allies who rallied and grew the movements which ultimately lead to change. Liberatzión is about freedom for all, a celebration of the positive steps made so far, and a reminder of the work that still needs to be done. The colourful parallel stripes represent diversity in all its forms; the upward diagonal design symbolises the positive progress and journey we are all undertaking for a better world.

Details: Our super soft 370gsm 100% Poly Velvet is sold by the metre, with a repeatable pattern at 52cm, a full width of 136cm, and with a Martindale abrasion testing of 50k. Fabrics over 2m come on a roll to ensure no creasing.
Recommended for: Upholstery, drapery, soft furnishings for domestic use. 
Please note: Fabric made to order so please allow 1-2 weeks for delivery.