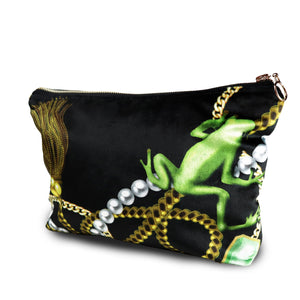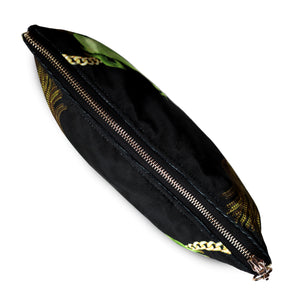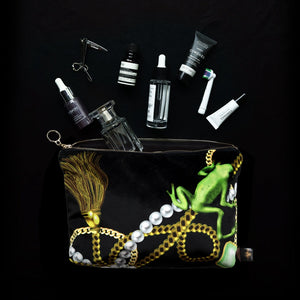 About: Inspired by the stories, emotions and feelings that can be imbued into precious objects, Tiana fuses the fantasy of fairytales with the opulence of fine jewellery. Sweeping tangles of chains and pearls protected by poisonous frogs create a bold nostalgic luxurious design.

Details: Whether you're storing your precious jewels, potions, tonics or elixirs (or make-up, toiletries and everyday essentials), carry them in style with our Everyday Pouch. Our pouches are handmade in England, using our signature sumptuous velvet fabric with gold zip detailing, including waterproof lining and an internal pocket. Comes shipped in a gorgeous gift box.
Outer: 100% Poly Velvet
Inner: 100% Waterproof lining
Size: 30cm x 23cm x 6cm
Note: The exact pattern placement may vary from the above imagery. Strictly limited edition.