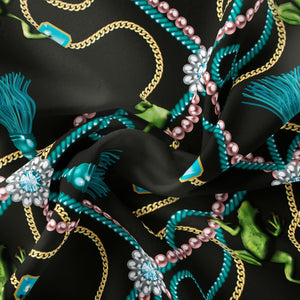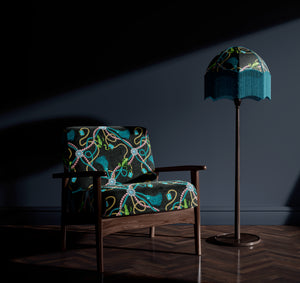 About: Inspired by the stories, emotions and feelings that can be imbued into precious objects, Tiana fuses the fantasy of fairytales with the opulence of fine jewellery. Sweeping tangles of chains and pearls protected by poisonous frogs create a bold nostalgic luxurious design.
Details: Our luxurious and shimmering 370gsm 100% Poly Velvet is sold by the metre, with a repeatable pattern at 52cm, a full width of 136cm, and with a Martindale abrasion testing of 60k. Fabrics over 2m come on a roll to ensure no creasing.
Recommended for: Upholstery, drapery, soft furnishings
Please note: Fabric made to order so please allow 2-3 weeks for delivery. Also our fabrics do not come with a fire retardant.