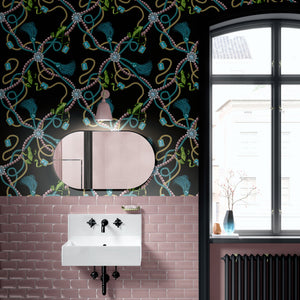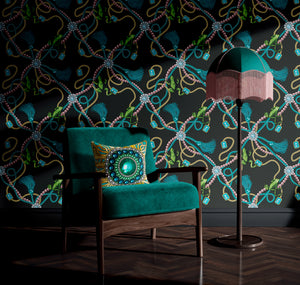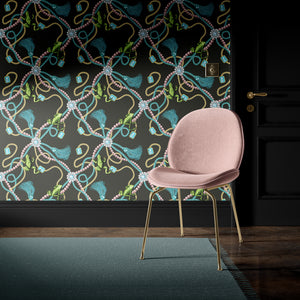 About: Inspired by the stories, emotions and feelings that can be imbued into precious objects, Tiana fuses the fantasy of fairytales with the opulence of fine jewellery. Sweeping tangles of chains and pearls protected by poisonous frogs create a bold nostalgic luxurious design.
Details: Printed on gorgeous fine quality super smooth non-woven Mica paper for a subtle pearlescent sheen. Our paper carries FSC certification, using paper from sustainable sources.
Design: Tiana
Colour: Nouveau
Print method: Digital
Hanging method: Paste the wall
Roll dimensions: W: 52cm x H: 10.05m (wall coverage per roll is 5.2m2)
Pattern repeat: Straight line up approx 52cm
Please note: Our wallpaper is made to order so please allow up to 2-3 weeks for delivery. Also, we print in batches and therefore slight variations in colour can occur from batch to batch. We strongly recommend purchasing an extra roll when ordering- any unopened rolls can be returned for a refund (minus delivery).